Why I cannot print out the shipping label for shipped orders?
After you click Ship, BigSeller can no longer request data from Seller Center. But the system will keep the cache for 14 days (Shopee, Lazada, Blibli, Bukalapak, TikTok Shop, and Tokopedia orders only). After 14 days, it will be deleted from the database. Thus, you can't print out the label anymore.

Why BigSeller fail to save the cache?
① API error may lead to cache failed (rarely happens)
② If you do not open the thermal print setting in Seller Center, and use the customized shipping label in BigSeller, the cache will be deleted automatically

How to change logistics for in process orders?
First: void the order
Check the orders that you want to change logistics for, and then void it.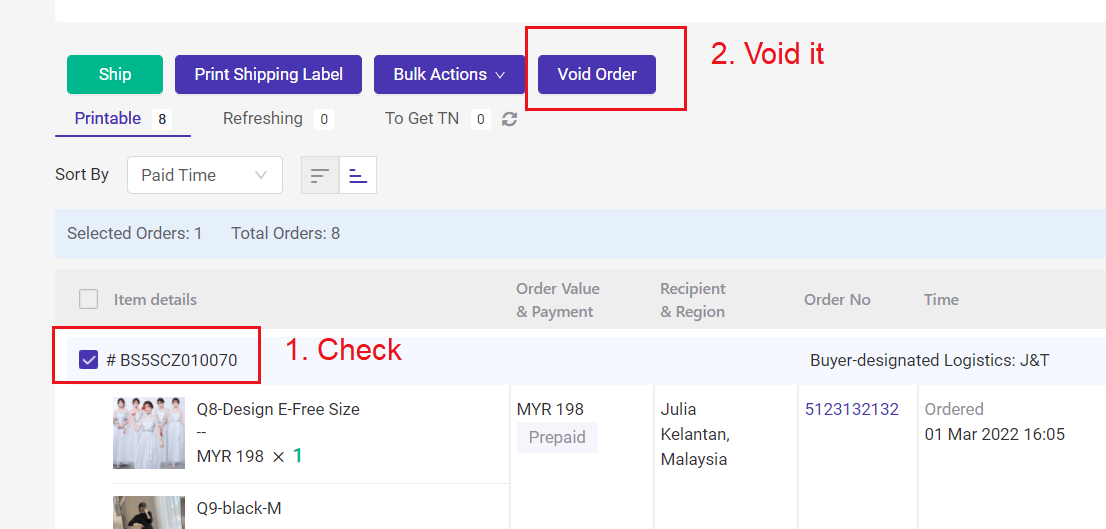 Second: change the logistics
Go to voided orders, check the orders that you want to change logistics for, click bulk actions - select shipping method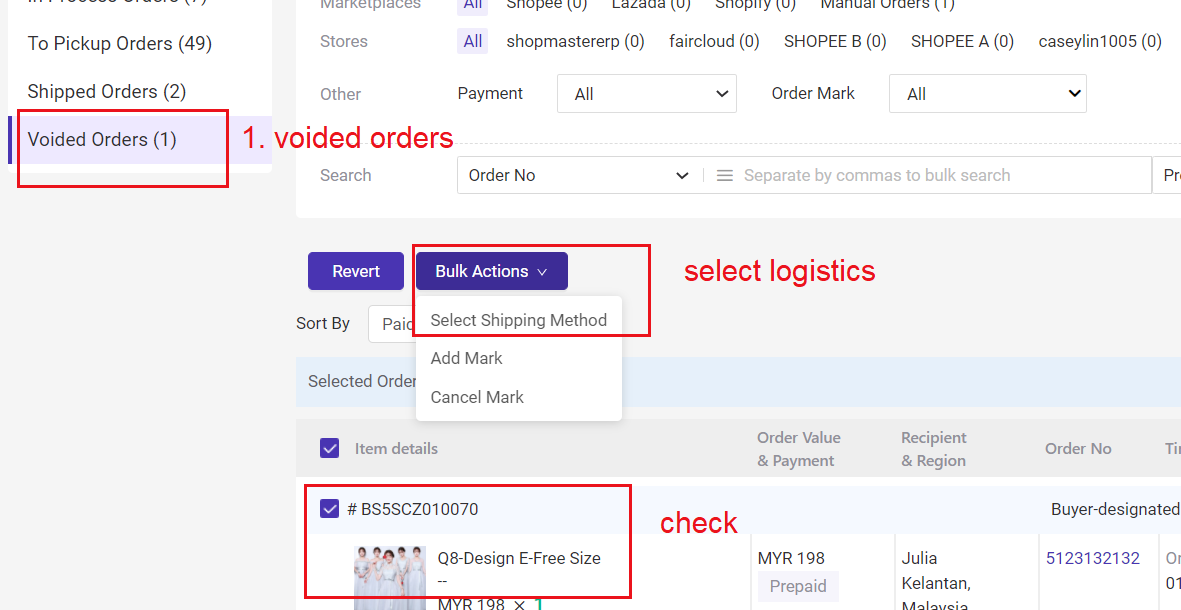 How long does the paid orders take to be synced to BigSeller from marketplaces?

BigSeller will auto-sync orders every 30 minutes. Also you can click on Sync Orders button to sync them in real time.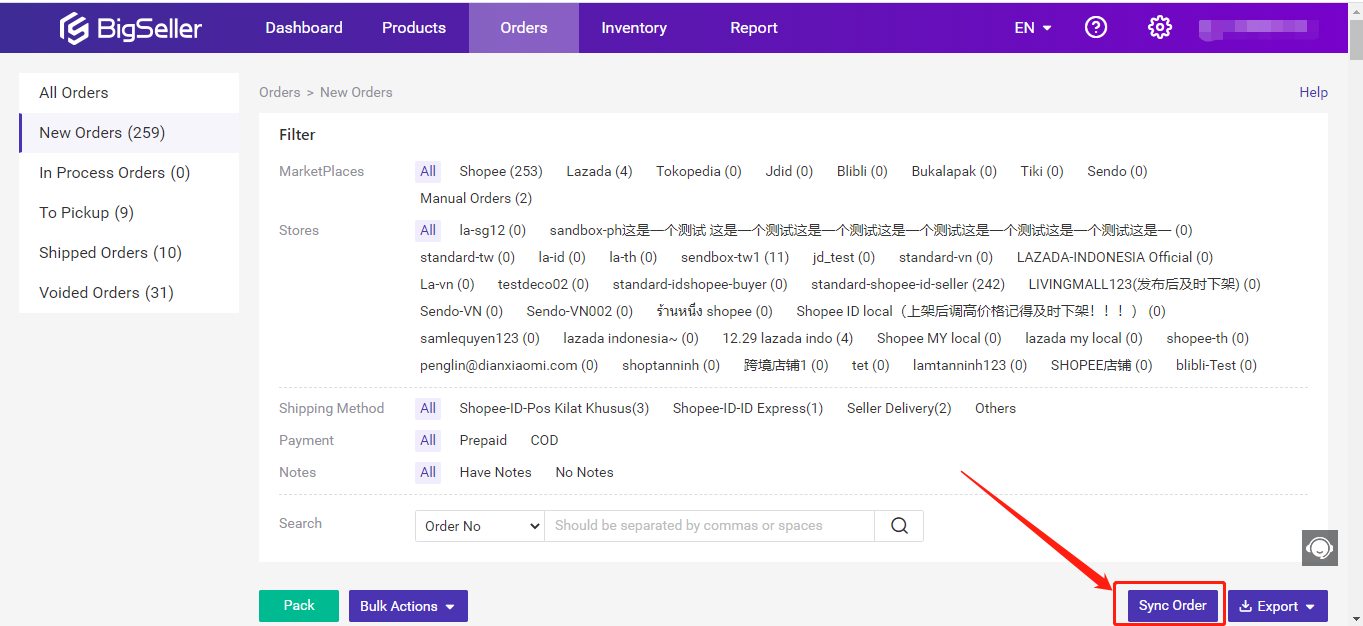 Note:
BigSeller cannot sync orders from your stores if the store authorization is expired. Please re-authorize it, and the order will be synced automatically.
When processing orders in BigSeller, when will the inventory be allocated and when will it be deducted?
With Inventory Features enabled, the system will automatically allocate the stock quantity of related Merchant SKU when orders are syncing in, and sfter you click Ship button in the In Process Orders list, the stock quantity will be deducted.
What is the Out Of Stock list and how to do?
When you process orders in Bigseller, you may find that some of your orders are under the Out Of Stock tab and you can not click Pack for those orders.





After you've enabled the Inventory Features in Setting > Inventory Settings, Bigseller will allocate stock for your order once a new order syncs to the system. If there is enough stock, then this order will be under the To Pack tab, or it will move to the Out Of Stock tab.

Under the Out Of Stock tab, there are many scenarios. Let's break them down one by one.

1. Error: The product of this order doesn't have mapping relations with the Merchant SKU, please set it on the order details page then process the order again




Solution: This error means the products in this order don't have mapping relationships with Merchant SKUs on Bigsller.
Please first map your store products with Bigseller Merchant SKUs. You can directly set the mapping relationships on the Order Details page or go to Inventory > the Merchant SKU list.
How to Change or Add Inventory Mapping on the Order Details page?
How to Add, Delete or Change Mapping on the Merchant SKU edit page?
2. Error: XXX has no stock in the warehouse



Solution: The inventory of this Merchant SKU in the warehouse is insufficient.
Please add a stock-in list to first add stock for this Merchant SKU. How to add a Stock-In List?
Besides, you can add stocks by purchasing and transferring items.
Steps to Use the Inventory Transfer Feature
Introduction to Purchase Order
3. Error: XXX is not in the warehouse

Solution:
This merchant SKU is not in the selected shipping warehouse, please go to the Order Details page to modify the shipping warehouse or add this Merchant SKU to the selected shipping warehouse.
3.1 Directly modify the shipping warehouse: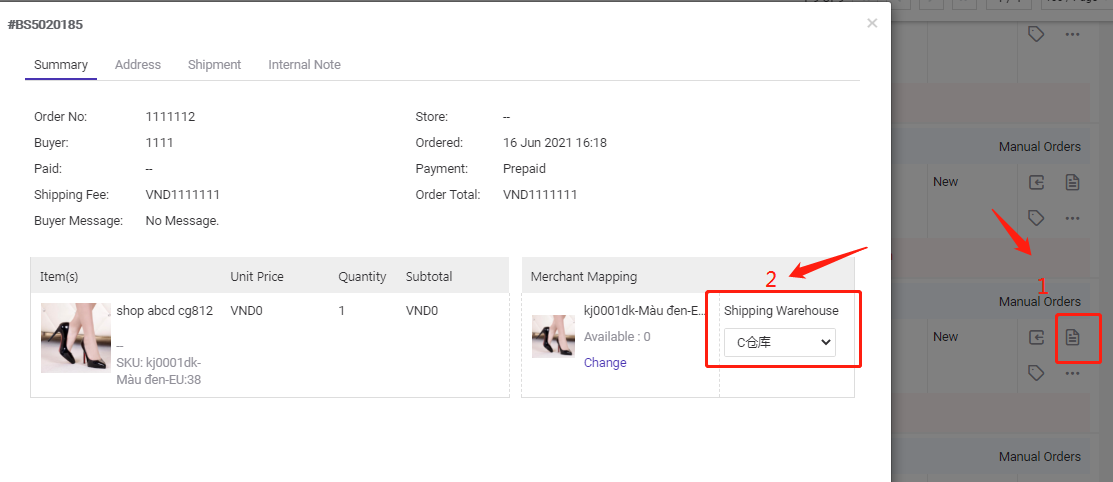 3.2 Add the Merchant SKU to the selected warehouse:
How to put a Merchant SKU into warehouses

Finally, after you've resolved the above issues, you need to go back to the Out Of Stock tab, click the Refresh Inventory button then the system will check the stock again. If there is enough stock for that order, it will move to the To Pack tab and then you can click Pack to arrange the order.



FYI:

If you do not want to do the above steps and want to move the orders from Out Of Stock to To Pack, you can go to Setting > Inventory Settings to turn off the Inventory Features. But please note that you CAN NOT turn off/on this feature if you still have orders in the In Process Orders box. It will show this message: Please handle all your in-process orders first.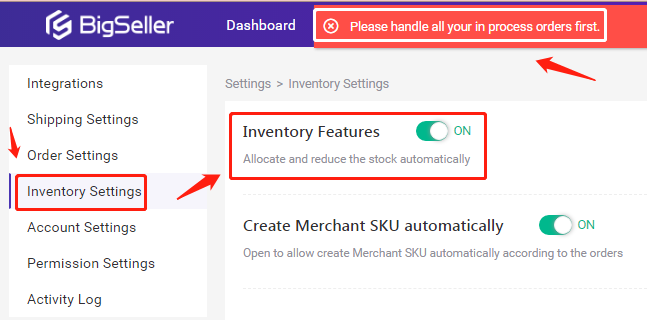 What is unusual order? How to deal with it
If you edit an order that has been synced to Bigseller on seller center, for example the item and quantity, this order will be marked as unusual order on Bigseller to avoid mistakes caused by information gap, and hence can't be processed as usual.
Note: Orders with Add-on product on Bigseller will not be considered as unusual orders




For unusual orders, please confirm if the order is correct before proceeding. If you want to process after confirmation, you can remove the warning through Bulk Actions. For more assistance, please contact Bigseller support for help.


How to use weighing settings
1.Function
Connect with an electrical scale when Scan to Ship, to record the weight of packages.

2. Steps
For orders In Process, you can try to Scan to Ship and weigh your packages, orders will be shipped and moved to To Pickup afterwards.
(1) Scan to ship In Process orders > Scan settings - enable weigh settings
Note: weight settings can only be enabled when scan time set as 1


(2) Connect the scanner and electrical scale, adjust weight unit
Note: please make sure the weight unit of the current page consistent with your scale


(3) Scan tracking number or package number - weigh the packages - done shipment
Note: you can confirm if to proceed when package exceeds allowable difference, if no allowable difference set, subject to upper limit; You can't process orders beyond weight limit.
You can also generate and print the manifest after Scan to Ship


Can I cancel an order directly in BigSeller?
Sorry, You CAN NOT cancel platform orders in BigSeller. BigSeller only supports cancelling the manual orders created on BigSeller. Click here to learn more.
Besides, in order to prevent the cancelled orders from being shipped out by mistake, we will check and update the order status when you click Pack or Ship button.
Also, you can check those orders which have been processed but being canceled under Canceled Orders list.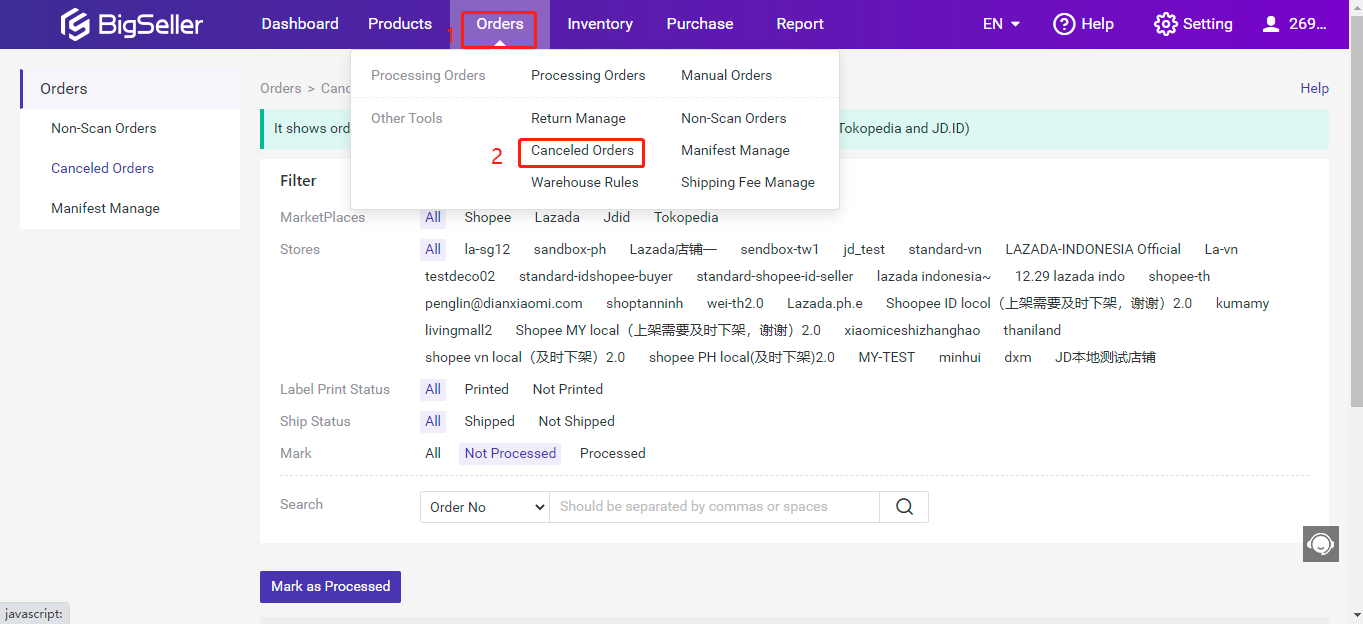 You can use Scan and Ship function in the In Process Orders list. After being scanned successfully, the order will automatically move to To Pickup Orders list.
When you use the scanner to scan the barcode on the shipping label, the system will check the order's marketplace status and if there exists a duplicate order. If the order's marketplace status is buyer's order request for cancellation/cancellation or there is a duplicate order, the system will report an error.
You can add different logistics channels in a group.

For example: If orders of logistics A and logistics B are both picked up by the same courier, you can add logistics A and logistics B to a same logistics group (name it Shipping AB); when using Scan and Ship function, you can select the logistics group to Shipping AB first, and then scan the package. If there are orders that do not belong to this logistics group, system will report an error message.
Why can't I scan after conncting the scanner?
Please check if your input method has been switched to [EN]. If you cannot scan after switching, please contact customer service for help.
Where to find the already generated Manifests?
Go to
Orders > Manifest Manage
, you will see all the generated manifests on Bigseller.
You can print the manifests, check the details and export them.

Why there is no tracking number in my manifest?
If you need to show the tracking number in the manifest, please click Setting>With Tracking No.>Save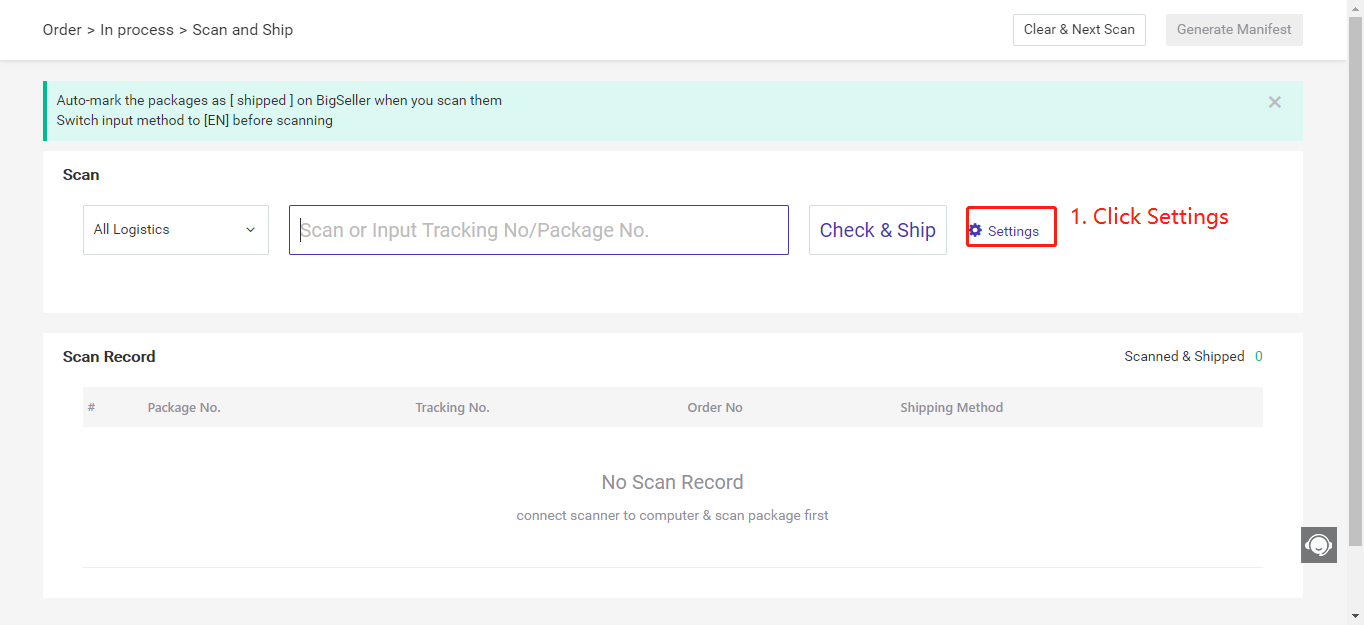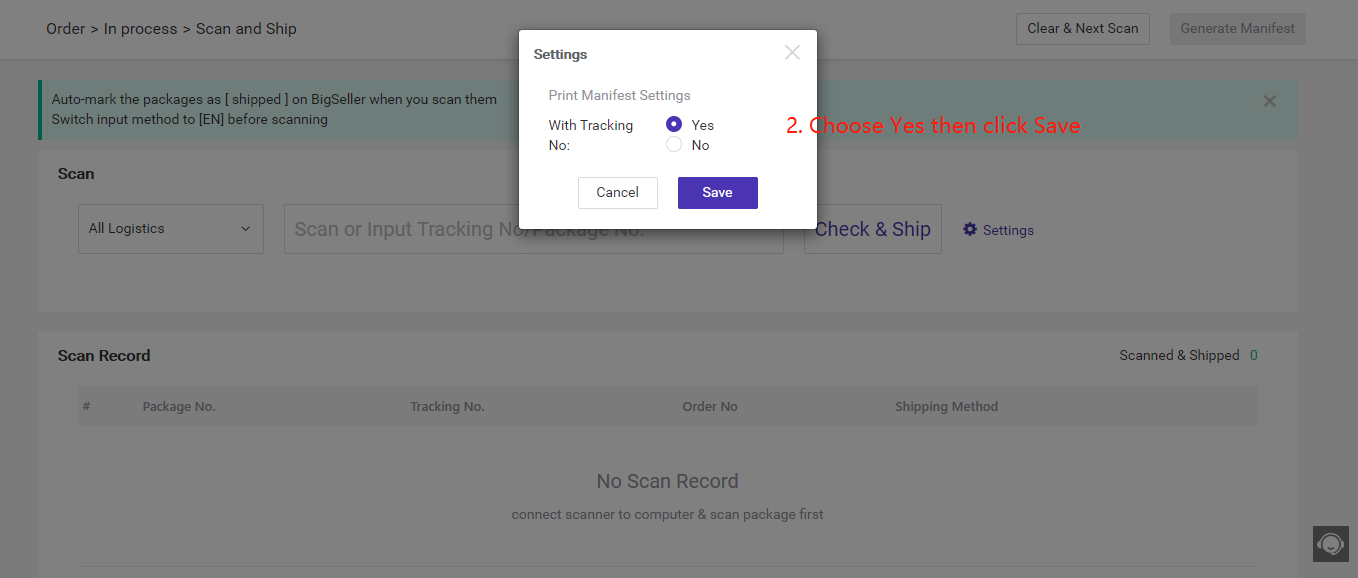 Why can't I find the manifest in Manifest Manage after scaning the parcels?
If you do not click Generate Manifest button after scanning, the system will not automatically generate manifest and keep the history of corresponding manifest.
What is auto mark as shipped?
Open the
Auto Mark as Shipped
switch below means:
If we find the orders has been scanned by logistics successfully syncing orders, we will mark as
shipped
and deduct the stock on BigSeller automatically. Just follow below steps to open:
Go to
Settings
>
Orders Settings
>
Other Settings >
Click on
the
switch

What is the difference between the two options of Lazada RTS Settings?
There are two options for the Lazada RTS Settings:
Packing to move orders to "Ready To Ship"
and
Shipping to move orders to "Ready To Ship".
If you select the first one, the status of orders will become RTS after you click "Pack". The advantage of this option is that the buyer can not cancel the order anymore after the order is RTS. However, this will bring risks to you since you will be punished if the courier comes to pick up the parcels before you make them ready.
For example, If your shop is under "pick up" by Lex MY, the RTS setting is really important. Because if the Lex driver comes to pick it up before you make the parcel ready, your PNR increases by 40-60% and then causes limited orders in Lazada.
Therefore, the latter is a safer option: the status of orders will become RTS after you click
"Ship".
Does BigSeller support package split?
Yes, you can split orders from Lazada, Shopee, Tiktok Shop, and manual creation in BigSeller