When selling on Lazada, decorating your store is necessary. Online stores are like physical stores, without an attractive store design, even if customers are attracted by promotions or products for a while, they will eventually leave due to the messy design in the store, let alone a second transaction.

In this way, you can design and decorate your store to look professional, the first impression is very important. It can help you to draw more potential customers into your store. There is a useful tool on Lazada called Stored Decoration, you can use it to design and decorate your store.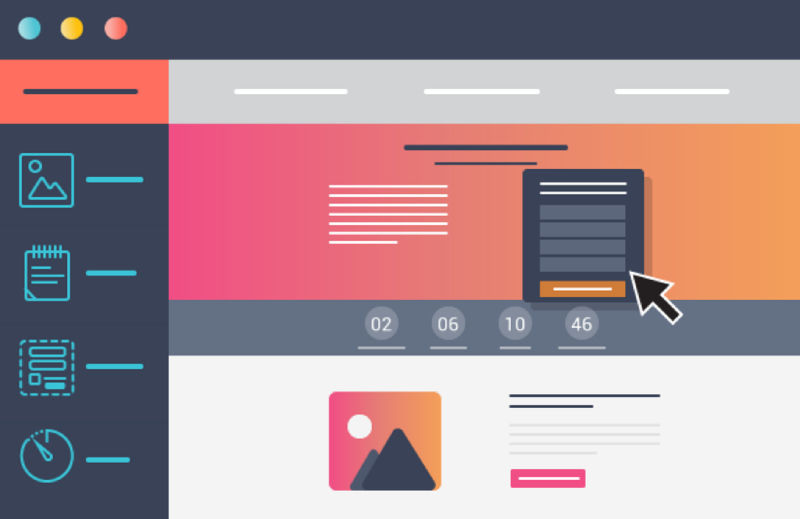 What is Lazada Store Decoration?
Store decoration is a useful tool which can help sellers to design and customize the layout of their store page on Lazada seller center.

Shop decoration is not only for aesthetics, but more importantly, it can promote the sale. The style of the store is also determined by your products, it reflects your style. And the color matching should conform to the theme of the entire store, don't match it blindly. You need to reflect the store's culture and make it easy for customers to remember.

How to decorate your Lazada store?
You can go to Lazada Seller Center to find this function, the navigation bar includes five modules. On the Store Homepage, you can click Edit.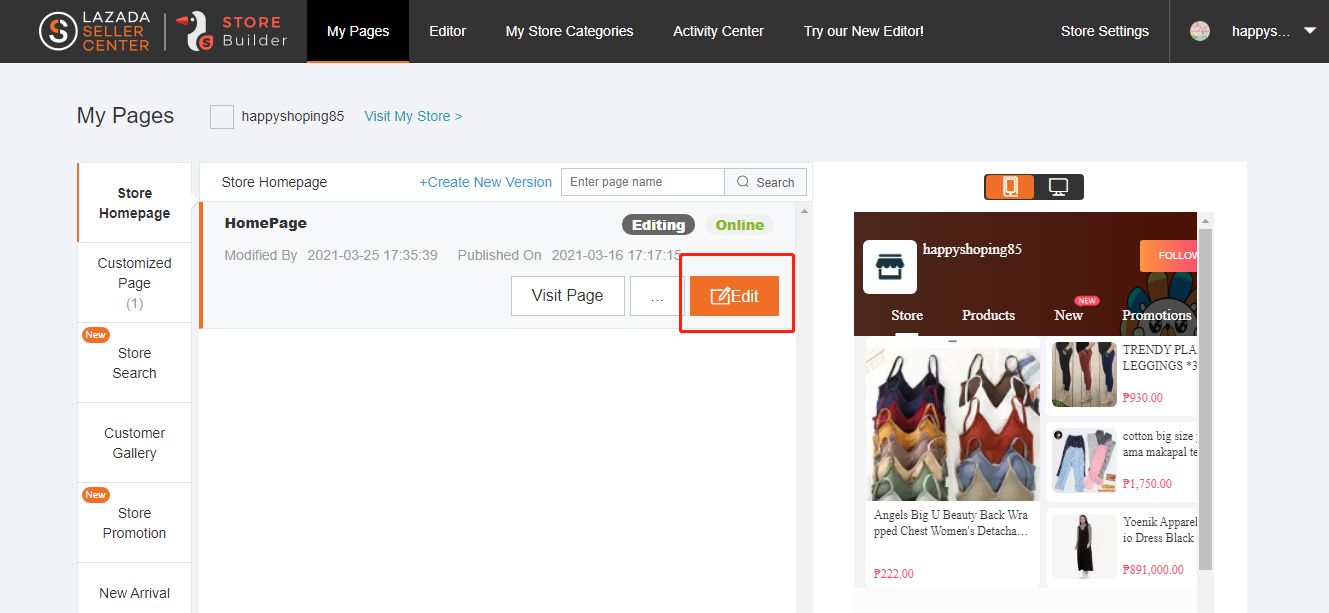 Step 1: Prepare store banners and logo
Before uploading, you need to prepare 2 elements: store header image and store logo. For the store header image, you need to prepare PC version and Mobile version, the size is different:
PC: 1200 x 128 px
Mobile: 750 x 180 px
For the store logo, the image size is 600 x 600 px.

Step 2: Upload store banners and logo
After preparing the banners and logo, you can click the header box here, then a pop-up window will show up, you can click to upload the store banner for PC and Mobile.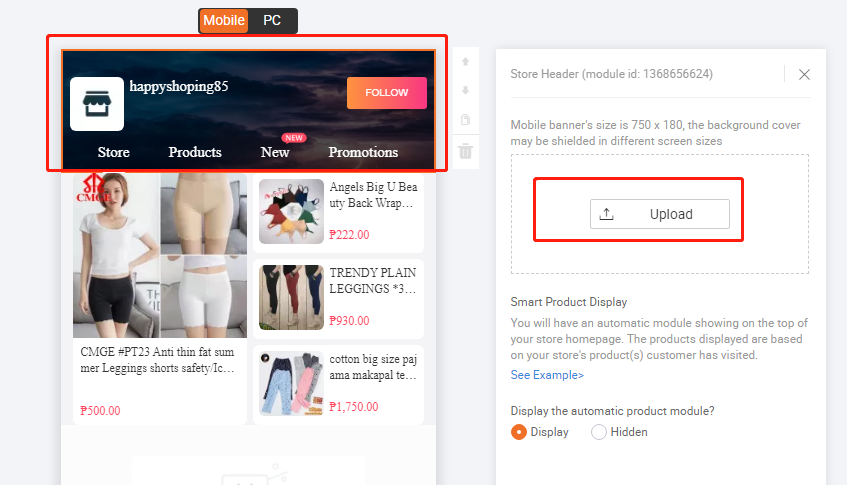 To upload the store logo, you can click Store Settings here. As we mentioned before, the size should be 600 x 600 px, this logo will be used in pages with store exposure.

Placing the store banner and store logo, it can help you to establish your brand and make your store more professional, you can create a banner yourself or have a professional do it.




Step 3: Add Product Recommendation Module
You can find this function under the Product section, you can drag and drop this module to the decoration area you want, then you can click on the module to start showcasing your best items.

Here you can customize this module with product selection type and product numbers, you can also sort product recommendations by personalized, item sold, product created date, customer review, highest discount, and product rating. After entering all the basic info, you can enter the module title and click Save.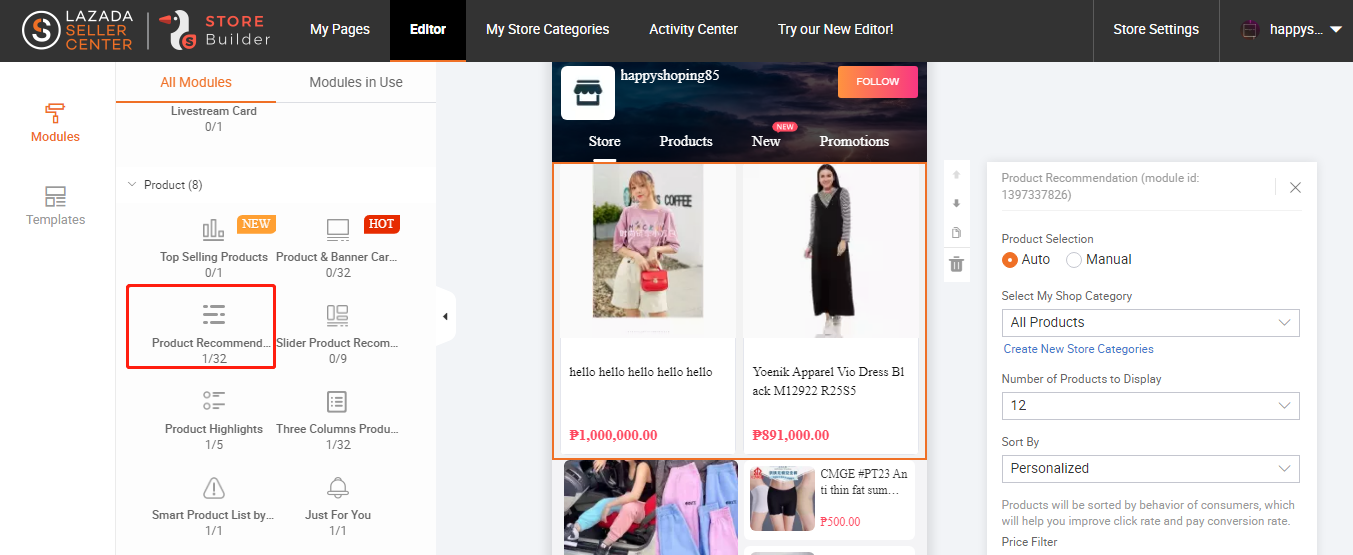 With the Product Recommendation module, you can showcase your best items to the home page, the faster and better product search in store home page will drive more customers to your checkout.

Step 4: Use decoration template
You can feel free to use the decoration template to decorate your store design easily. Here are some designed templates in Lazada, you can select one and use it directly.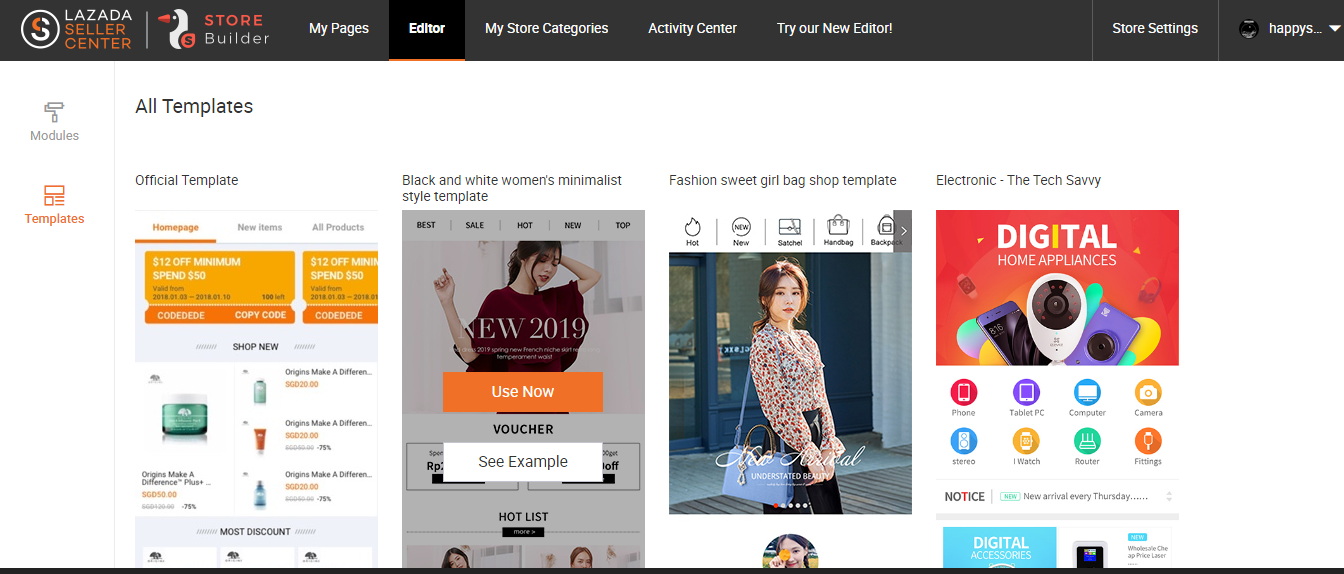 Conclusion
Apart from the store banner, logo, and recommended products, you can also include other elements to your storefront, for example, guided navigation, which can help your customers to find products quickly. Promotion and discount info can attractive your customers to purchase.

A well-decorated storefront can make it attractive to your customers, then they may go inside your store and view more products. When you show your brand professional in the store front page, the customer will believe your product and service, then it can boost your sales.